10 Reasons to Run RUN! GEEK! RUN! 5K
We narrowed it down to the top 10 reasons why you should run this 5K!
ALEXANDRIA, VA. (PRWEB) SEPTEMBER 10, 2019
Downtown Alexandria is home to the annual RUN! GEEK! RUN! 5K. In 2019, the race takes off on September 29th, winding along Main Line Boulevard and Potomac Avenue. At its core, RUN! GEEK! RUN! is dedicated not only to physical fitness, but to its local community. Every year (12 and counting), this USATF-certified event has grown in participation and impact. Here are 10 reasons why you should go all in for RUN! GEEK! RUN! 5K:
1) First and foremost, RUN! GEEK! RUN! benefits the local community — a new beneficiary each year. This year's recipient is National Industries for the Blind (NIB).
2) RUN! GEEK! RUN! aims for maximum impact: All proceeds go to the charity of choice.
3) It's legit: The 5K course is USATF-certified.
4) Good reviews: Past runners rave about the race, calling it the "perfect course."
5) It's inclusive: RUN! GEEK! RUN! is open to runners and walkers of all levels and abilities.
6) It's family-friendly: Kids are welcome to participate too! Our course is stroller-friendly, and kids nine and under even have a chance to win a coveted bobble-head trophy.
7) Speaking of prizes: RUN! GEEK! RUN! awards prizes to top runners in multiple categories.
8) Smells like…Team Spirit: RUN! GEEK! RUN! gives corporations and organizations the chance to build their very own team! Team-build while supporting your community and having fun.
9) Tons of local support: RUN! GEEK! RUN! attracts lots of great sponsors every year like HudsonLake, TD Bank, Jen Walker Team, Buchanan Edwards, InSite Wireless Group, Giant and Axis Research — just to name a few!
10) Last, but certainly not least – Meet Eugene! Our geeky mascot is all about community and fitness. He even has his own team and always welcomes new recruits. Sign up to be part of #TeamEugene today!
About RUN! GEEK! RUN!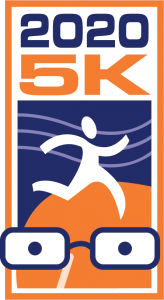 RUN! GEEK! RUN! is an annual 5K race taking place in Alexandria, VA. This event is open to individuals of all ages as well as teams. We also welcome sponsors – all in support of a good cause.
Every year RUN! GEEK! RUN! selects a local nonprofit to which all proceeds from the race are donated. This year's recipient is National Industries for the Blind, an organization instrumental in ensuring that Americans who are blind can find gainful employment opportunities.
Past beneficiaries of this event include The Capitol Post, Alexandria Firefighters Helping Hands Relief Foundation, and Alexandria Seaport Foundation. Contact RUN! GEEK! RUN! via our website: https://rungeekrun.org.
About Ironistic:
Ironistic is a full-service online development and marketing firm. With decades of industry experience under its belt, Ironistic delivers innovative website development services and integrated marketing solutions to companies of all sizes and across all industries.
From small, brochure websites to custom portals, Ironistic services include strategy and consulting, website/app design and development, online marketing and SEO solutions, as well as website hosting and maintenance.
Contact Ironistic via their website or by calling:703-829.0809.
About Hudson Studio:
Hudson Studio is an award-winning design and visual communications firm based in Alexandria, VA. With over two decades of design experience, they specialize in delivering unique and effective solutions for every client. Their goal is not only a great, finished product, but great results and a great experience.
Past clients of Hudson Studio include Alaska Airlines, Cedars-Sinai Medical Center, Toyota Financial Services, and the Alexandria Chamber of Commerce. Contact Hudson Studio via their website or by calling:703-837-9094.
About National Industries for the Blind:
Since 1938, National Industries for the Blind (NIB) has focused on enhancing economic and personal independence opportunities for people who are blind, primarily through creating, sustaining and improving employment. Through the manufacture and provision of SKILCRAFT as well as other products and services of the AbilityOne TM Program, NIB and its network of associated nonprofit agencies are the nation's largest employer of people who are blind. NIB has called Alexandria home for more than 20 years and recently moved into its new headquarters in Potomac Yard. For more information about NIB, visit NIB.org.
Read the original article at: